In the good old days, websites used to be more like repositories for keywords than the online face of businesses. Well, today, the scenario is not quite the same. SEO has evolved over time. You can no longer trick the system by stuffing content with keywords and expect a great result. The keyword-focused approach has changed to a more engagement centric approach.
With the dawn of the new decade, the role of digital marketing has superseded any other medium of communication and presentation. To rank your content, it needs to be shareable, accessible & likeable on every platform.
In this article, we'll walk you through 7 practical online marketing tips to run SEO for small businesses seamlessly.
The DO's of SEO for small businesses
1- Good User Experience
SEO + UX = Guaranteed Success 
A good digital marketing strategy emphasizes creating a great 'user experience' that adds value to your customers, readers, and target audience.
Search engines collect data and employ advanced data mining operations to monitor user behaviour. With the help of that data, they tweak the algorithm to provide more of what the user wants and less of what they don't. That simply means websites that successfully understand the user's needs are automatically ranked high by Google.
What does this mean for you?
You need to understand what your audience is looking for and provide it to them in the most presentable and convenient form.
It merely means using the right combination of generic + specific keywords, Header (H1, H2) tags, and easy site navigation. You also need to include the searcher's intent, improve site speed, optimize a mobile-friendly website experience, and remove any clutter from your website or content.
For example, Novo Banking uses 'banking' as the primary keyword, which is further combined with other supporting keywords to add value to the customer reading it. Anyone using this keyword with 'small business' or 'freelance' or 'small business solutions' would be able to find the site. With a clear message above the fold, it's easy for the readers to understand how they help and who they help.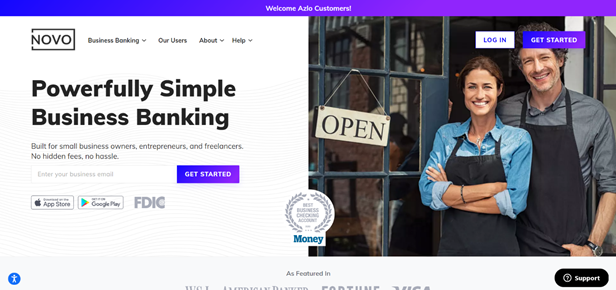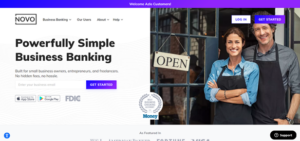 Similarly, if you notice Swiped's mobile version, you can see that they cater to 'copywriting' and 'marketing' as their primary keywords. You can easily browse through their topics, blogs, ideas, and much more at the click of a button.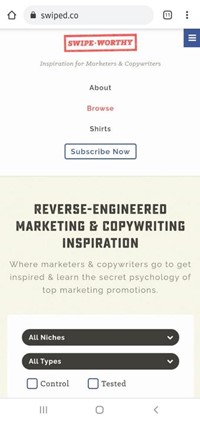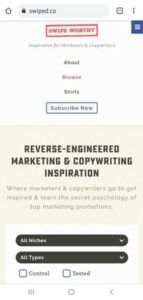 Smart and straightforward designs go a long way in establishing a quick recall value with the audience and also makes Google and other search engines love your website.
2- Focus on Local Search
If you thought SEO for small businesses is for small corner shops or 'retail stores' only, you couldn't be more mistaken! Today, the digital marketing world is constantly changing and evolving at a rapid pace. Hence, it makes more sense to cater to your local audience than concentrate on a global level only.
Local search encompasses search terms that scream local intent, such as –
Your SEO for small businesses strategy has to focus on increasing your presence in your local area to get more hits on your link, more inquiries, more walk-ins, and a more comprehensive digital footprint locally. All your content, on-page optimizations, and link building with local intent in mind will help you gain more traction amongst your target audience.
A good idea will be to optimize Google My Business to build your small scale business or even a start-up. It is a misconception that it is only for small brick-and-mortar shops. It's value to your business is much more than that.
According to Statista, SEO for small businesses has grown by nearly 50% since the pandemic and will continue to grow exponentially. If you read the image, you can see the increased use of terms 'near me' and 'close to me has become more popular for people from across the country. The trend continues to rise globally.
If you want to generate a strong social media presence, don't ignore your local audience and local exposure. Publishing engaging content that is relative to your city is the perfect online marketing strategy to generate sales and leads from people in your own backyard.
3- Focus on Videos and Visual Content
Experiential learning adds more value to students than words and sentences on a paper. Most of us fall in the category of 'visual learning enthusiasts' and prefer to consume visual content rather than actually reading written material.
Incorporating visuals and videos in your content can go a long way in retaining your audience's attention and grabbing a preferential sweet spot in your consumer's mind. If you notice below, Venngage distinctly creates a visual board to help you (audience) understand the importance of 'why visual and video content is significant for large and small businesses alike.
A classic example of optimum video and visual content is the leading food delivery partner and player- Zomato.
90% of Zomato traffic comes organically from Google.
They optimize top keywords to create unique URLs and web pages.
They put a lot of effort into using real people and real stories coupled with great copywriting to create magic on the internet.
From newsletters to emails, web content, blogs, and even display adverts on social media, Zomato has captured the local and national market with its strategic SEO campaigns.
If you want to create an impact on your audience's mind, a small business should incorporate SEO driven visual content as part of the online marketing strategy.
While it sounds easy in the SEO world, there are a few iconic blunders you need to avoid altogether.
Don'ts of SEO for small businesses
4- Stuffing Keywords Into Your Content
For those of you who think you can trick Google (or any other search engine) to rank your content based solely on Keywords, you couldn't be more wrong! Stuffing keywords in no distinct order that's readable and user friendly will often lead to your website being penalized by Google.
There was a time when small businesses stuffed keywords in as few as three sentences and made their website rank. But that was nearly a decade ago.
Today, the same strategy can get you blacklisted by search engines and will make you lose out on potential rankings for your website.
A classic example of keyword stuffing looks like this:
Develop a habit of creating content that puts 'reader's first and one that matters to your audience. Use your main keywords sparingly, i.e., 2 or 3 times per 500 words. Using specific long-tail keywords will help search engine crawlers identify your content's worth.
5- Shady Link Building Techniques
We, and so many other websites, couldn't have said this enough 'don't use shady link building techniques' to try and rank on Google. It will crawl through the website, catch it, and penalize it. With Panda and Penguin always on the lookout, using spammy techniques to gain followers and 'seem' relevant to your audience will not work.
Whenever businesses use Black Hat SEO techniques, it often backfires. Submitting to article sites or directories which only deal in volume is a big no-no.
If you get an offer to utilize do-follow services, it is best to stay away. These marketers charge businesses a hefty amount and violate the Google quality guidelines. Having too many "do-follow" links from unrelated websites will harm your website's ranking.
(Source: Neil Patel)
Save your website from any manual or algorithmic penalty and avoid using shady link building techniques to strengthen your digital marketing strategy.
6- Spun Content/Low-Quality Content
Most small businesses utilize the services of low priced and low-quality writers or SEO agencies who rewrite existing content 'concept by concept' and present them as unique. Spinning the same content in different ways will push back all your marketing efforts and deteriorate your brand image.
An example of spun content:
7- Blog Forum Spam
Google has a pretty neat way of finding out spam comments and blog link requests. These do not benefit the readers anyway and will hurt your digital marketing strategy and impact your website's ranking in the long run.
If you have been part of a community related to your product or service, posting your website link in the comments will not harm your business. However, if you are new and indulge in posting 'Hi, I am ABC. Have a look at my website XYZ to get more offers.' It will harm your website's reputation and your own. If you see this on your website as well, stay away.
Conclusion:
Several tried and tested ways to drive an effective SEO for small businesses Strategy exist; however, what works for others may not work for you. Marketing trends change all the time, and it is advisable to start using the SEO techniques mentioned above to help build a scalable small business. The key is to pay attention to the trends in digital marketing and employ qualified and experienced SEO agencies to help you deliver the desired result.