Scaling an offer to reach the coveted 7-figure mark is a journey laden with strategic decisions and precise calculations. Recently, an incoming client of ours posed an intriguing question about the ideal Earnings Per Click (EPC) for scaling an offer. While this question is relevant, it's not the most critical one for someone looking to amplify their offer's reach and revenue. The more pertinent question to explore is, "What are the core metrics of scaling an offer?" Let's dive right in to understand all the core Metrics you need to scale your offer to 7 figures and beyond.
Understanding the Core Metrics
Before we can talk about scaling, it's important to grasp the core metrics involved in this process. These include Earnings Per Click (EPC), Cost Per Click (CPC), Average Order Value (AOV), and Cost Per Action/Acquisition (CPA).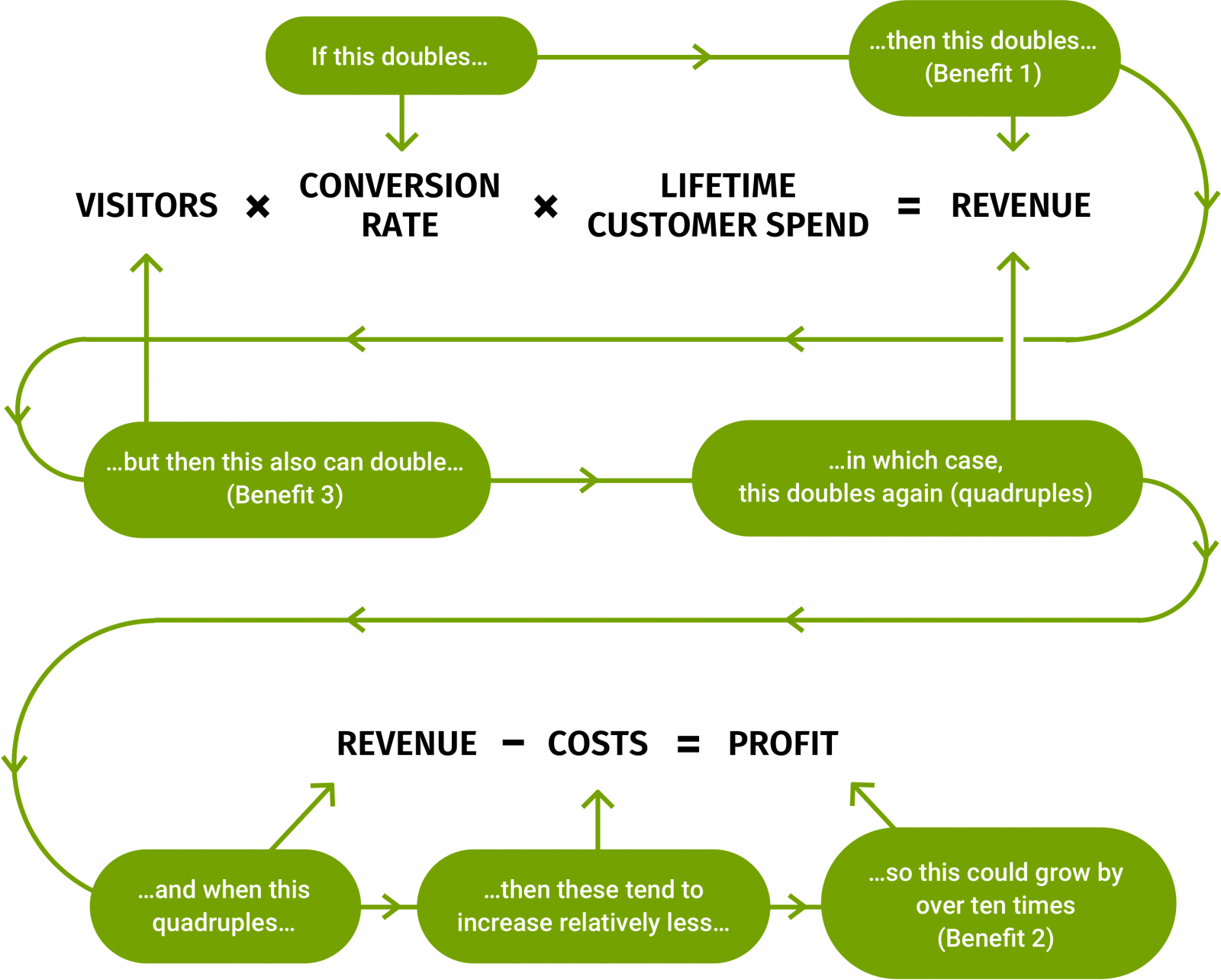 EPC, CPC, AOV, and CPA: The Pillars of Scaling
EPC (Earnings Per Click): This measures the average earnings received for each click on an advertisement.
CPC (Cost Per Click): This indicates the cost incurred for each click on an advertisement.
AOV (Average Order Value): This reflects the average total of every order placed over a specified period.
CPA (Cost Per Action/Acquisition): This is the cost associated with acquiring a customer or a specific action being taken.
Understanding these metrics provides a foundation for evaluating and improving the performance of your offers.
The Ratios: Where the Magic Happens
It's not just the individual metrics that matter, but the ratios between them. These ratios are pivotal in scaling and understanding the economics of your offers. They guide you in setting the right price points and understanding the market's price elasticity.
Mapping the AOV to FRONT-END Price Points
The Average Order Value should be a multiple of the front-end price point, with the multiplier varying based on the price range of the offer:
For $5-$10 offers: Aim for an AOV that is 5-10 times the front-end price. For example, a $5 book should have an AOV of $50-$100.
For $10-$50 offers: Target an AOV that is 3-5 times the front-end price. A $25 course should ideally have a $125 AOV.
For $50-$100 offers: The AOV should be 3-5 times the front-end price, meaning a $50 course would aim for a $150 AOV.
For $100-$1,000+ offers: Here, the AOV should be 1.5-3 times the front-end price. A $200 course, for instance, would have a target AOV of $400.
The Strategy: Higher Price, Lower Range; Lower Price, Higher Range
An effective strategy is to position the higher-priced offers in the lower range of the multiplier and the lower-priced offers in the higher range. This approach helps in maintaining a balance between conversion rates and price elasticity.
Scaling and the Concept of Diminishing Returns
As you scale your offer, it's crucial to remember that reaching a broader audience also means encountering a higher number of people who will say no. This is where the importance of your offer's back end (everything beyond the front end) comes into play. The backend needs to be strong enough to carry the offer, hence the emphasis on the AOV and its multiples.
Knowing Your Position and OptimiSing
Understanding these metrics and ratios gives you a map to gauge where your offer stands and how much room there is for optimisation before hitting the point of diminishing returns. This point refers to the stage where further investments in scaling do not yield proportional returns, making it essential to know when to push forward and when to hold back.
Practical Steps to Apply These Metrics
Analyse Your Current Metrics: Start by assessing your current EPC, CPC, AOV, and CPA. Understand where you stand in relation to the industry standards.
Set Realistic Targets: Based on your price points, set AOV targets using the aforementioned multipliers as a guideline.
Optimise for Backend Strength: Focus on enhancing the backend of your offer. This could involve upselling, cross-selling, or improving the overall customer experience to increase the AOV.
Monitor and Adjust: Continuously monitor these metrics and adjust your strategies accordingly. Scaling is not a set-it-and-forget-it process; it requires ongoing attention and tweaking.
Conclusion: Navigating the Path to Scaling
Scaling a 7-figure offer is an intricate process that involves more than just pushing for higher sales. It's about understanding the interplay between key metrics, setting strategic price points, and ensuring your offer is robust enough to withstand market dynamics and consumer behaviour patterns