The digital marketing industry is expanding, changing ever so rapidly, and creating endless competition for platforms, Google algorithms, and digital media. This is why SEO agencies exist and are being used now more than ever.
As SEO experts we are often left answering the same questions, "what does an SEO agency do?" and "how can it help me?". So, here is everything you need to grow.
While all SEO agencies are unique, they all share one key value;
To help your business grow.
SEO stands for search engine optimization, this means you are connecting with a company that strives to improve your visibility in search engines and ultimately more interaction with your website, resulting in a spike in revenue!
The great thing about SEO is that your promotional media efforts influence customers to find you online. Instead of having your business aimlessly blast its message out with no certainty that it would reach its audience, SEO works in the opposite manner.
We've all heard the typical pitch, "tailor your sites for your audience…" though, if you want to be sure you're actually reaching your audience your website must be created in a way that employs intelligent strategies that draw attention to the specific needs of customers for your business.
We make sure you're not left behind as we all head into this new era of technology.
The best SEO agencies will treat your website as if it's their own, meaning they will analyse what is and isn't working for your business and make structured decisions in order to maximise the potential of your search engine optimization.
As SEO experts we strive for a top-quality service that focuses on understanding your business and its aims, as well as developing continuous results through our Sydney SEO services. We utilize the ability of search engine optimization to specialise in specific segments of the market or location.
This helps verify your brand's authority and allows Google to look at your site approvingly, amplifying your chance to claim a spot on the first page of searches, or better yet, the very top spot.
Now with a bit more understanding of what an SEO agency does you may be asking yourself, Why is SEO so important and, am I assured to see results?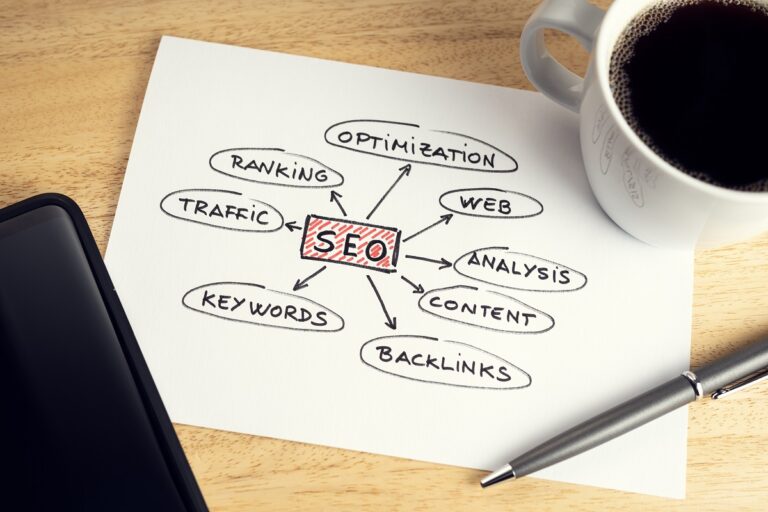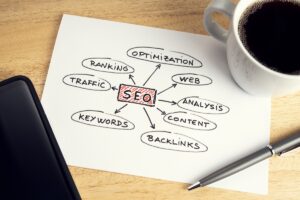 SEO or search engine optimization concept. Paper with SEO ideas or plan, cup of coffee and smartphone on wooden table desk[/caption]
In this day and age, everything starts from the click of a button, 97% of consumers go to the internet to search for local services. If your business is not showing up in highly relevant searches you are ultimately losing business and diminishing the chance of expansion in revenue.
There are many factors that contribute to why a website is ranked the way it does, but these are the ones we believe influence it the most.
Website content value
Optimized images
Website security
Mobile-friendly website
Interactive and up to date
Website load time
Social media attached to the site
Website content length
An SEO marketing company should be working with you to ensure all factors stated above are addressed and optimized and, in order for you to be certain of that you should look out for these key points in their contracts.
Website content analysis
Website coding
Optimization of onsite content
Optimization of factors Off-page
Off-page analysis
Website structure analysis
Conversion analysis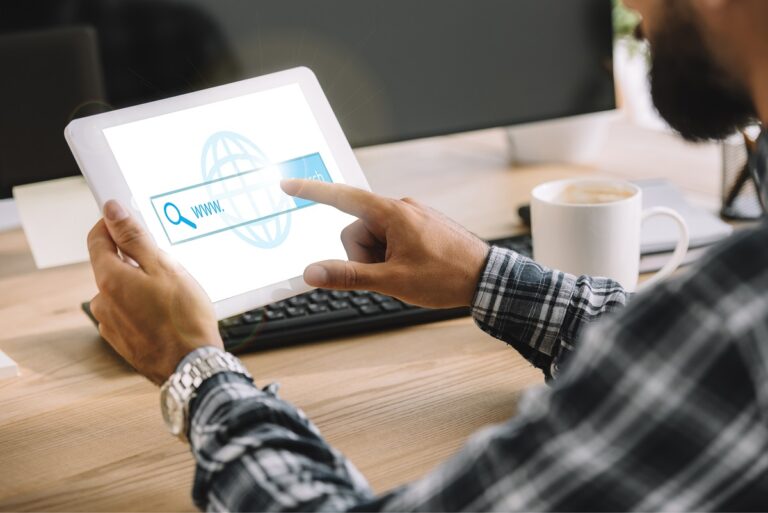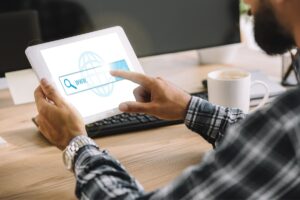 cropped shot of seo manager using tablet with website on screen[/caption]
To stay two steps ahead of your competition you must stay two steps ahead of Google.
When running your own business it can get quite hectic having to juggle workload, employees, calls, bills, and behind-the-scenes marketing efforts while trying to execute all perfectly.
Google is always changing its ranking algorithms, nowadays more rapidly than ever, and keeping up with it can be a major setback to success. This is exactly why digital marketing agency are important and beneficial.
Let us take a load off your shoulders and let you get back to what you're good at –, running your business.
A professional SEO firm will reduce the stress of handling an operation on your own, and ensure it's done right! Not to mention that our SEO gurus know how to make the most of every dollar you put into your strategy. Once again optimizing not only revenue but also your initial investment.
We will handle everything, researching your industry, implementing SEO elements on your website, and mapping out how to maximise your campaign.
How can an SEO Agency help you?
Without a doubt, we all know there's a lot of competition out there. Not only with other businesses, but also with Google and social media platforms. This is why it's always good to have someone on your side who understands the current market trends and Google algorithms.
When you work with a professional firm you are entrusting a group of experts who know everything there is to know about getting you to the top.
To help your business grow, our SEO agency Sydney will do what it takes to:
Increase brand awareness via search engine optimization (SEO).
Improve online conversion rates by analyzing and optimizing web content for user experience.
Establish strong relationships with local online publications and bloggers for better link-building opportunities.
Build quality backlinks that are relevant to your industry which will result in organic traffic from Google.
Come to think of it, the concept is pretty simple, right? You hire a firm to make changes to your site so that Google looks at it more favorably for specific keywords. This then results in search engines rewarding your website with higher rankings, making you easily accessible and creating room for a broader audience and more revenue!
Done right, an SEO agency can do absolute wonders for your company. We have done endless research into understanding what really impacts SEO and are ready to take you to the top!
Our SEO agency uses Google's tools and analytics to craft techniques and strategies that result in high-quality and relevant traffic to your website, and that's important because more than 90% of your customers use the internet as their first search point.
Contact us at Defiant, SEO agency Sydney today to see how we can help you grow!